By BEN ST. CLAIR on December 28, 2016 in the Blog of the Norwood News.
In September, while other Fordham University students finished class or relaxed before a Friday night out, sophomore Olivia Greenspan headed to the garden. Tucked away behind Fordham's Faculty Memorial Hall and the building housing Fordham University Press, the garden is a far cry from the New York Botanical Garden across the street. But to her and many others who spend time there, this garden — St. Rose's Garden — is one of the university's hidden gems.
Many students are not aware of the garden's eight beds and numerous kiddie pools filled with soil. Despite the colorful sign on the fence marking its presence, the garden looks like it's off campus, hidden behind a fence and six feet or so below the road. And now that most students have gone home for the winter break and the colder weather has set in, garden activity will slow significantly.
But for a couple months this fall, St. Rose's Garden served as the campus' bustling agrarian center.
The Friday in September was one of the first garden meetings of the academic year and Greenspan's first time leading a meeting as one of its co-managers. Earlier that week, members had cleared one of the overgrown beds, which now lay bare, but there was still planting and "beautification" to do, as the garden's managers call it. The tall grass and vines that wrapped around the fences and walls gave the garden a wild appearance. Scattered tools and seats made of piled stones reinforced that look.
To garden member and senior Bill Haug, though, the overgrown appearance is just "part of the garden." Sophomore Alex Sottile said that she thought the garden made for a "peaceful" environment.
Like most Friday meetings, work that day involved weeding and watering the garden's beds. Senior Bryan Kiel, who serves as one of the garden's co-managers with Greenspan and senior Kiera Maloney, took the opportunity to uproot some of the morning glory plants that had been growing between one of the beds and the side of the building. Other students stood around talking.
The garden's members augment the space's casual atmosphere. Some, dressed in skirts or athletic wear, did not show up to meetings during the semester looking like typical gardeners, while others, like Kiel, walked around without shoes as if they belonged there the whole time.
At the end of the meeting, Kiel encouraged the group to revisit the garden, either during or outside official club meetings. He wanted their help making St. Rose's a more social space. "It's your garden," he told them.
An "Outdoor Classroom"
For the fall 2016 semester, St. Rose's held garden meetings three times a week. Despite their name, the meetings more often consisted of weeding and planting than roundtable discussions or hierarchical decision-making. Maloney said that some students are surprised when they first come to a meeting. She added, "It really is just hanging out and pulling some weeds usually, and taking home whatever veggies you want. It's very casual. It doesn't really fit any other club definition I guess."
Senior Jake Madsen first heard about the garden through a friend. "[He] sent me Snapchats, and I was like, 'Where are you? Where is this garden?'" Before then, Madsen had been growing plants only in his apartment. And another one of his friends had been growing them in one of the upperclassmen dorms. "He lived on the ground floor," Madsen said. "You'd look through the window and there'd just be all these green things growing underneath his bed with a light. But they're all chili peppers."
Chilies were Madsen's specialty too. He'd developed a reputation as the pepper guy in the garden, and many of the garden's pepper plants had been transplanted from his own supply. For Madsen, gardening was a hobby, something that "scratches an itch."
Greenspan thinks that there's something unique about the eclectic mix of students St. Rose's Garden attracts. "I don't think people have many ulterior motives when they come here," she explained. "There are a lot of clubs that people do for their resume. But I think when people come here, they have some personal reason for doing so." Added Kiel, "I think people are just genuinely curious about our own activities and about plant life in general. I wouldn't say they're all environmentalists."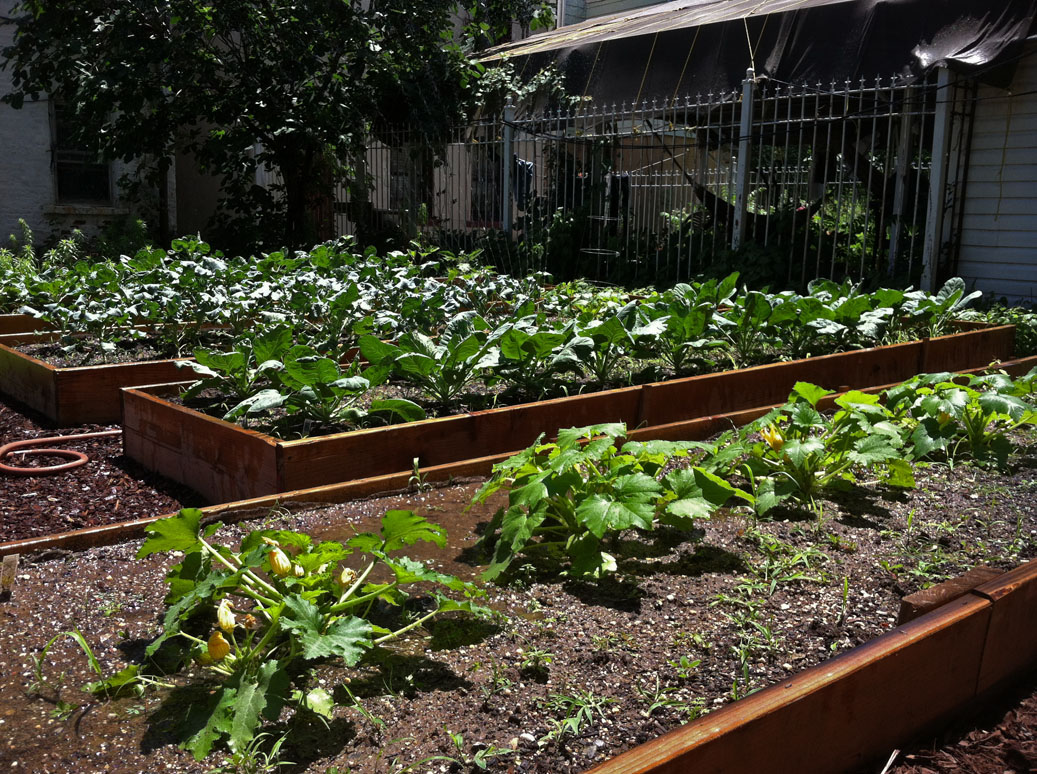 Some members are not expert gardeners, either. The current garden managers credit a lot of what they know to their predecessors who graduated in May, Jill Verzino and Emma Huntress, and both Kiel and Maloney say they learned a lot from volunteering at the New York Botanical Garden.
St. Rose's Garden was founded back in 2012 when Jason Aloisio, then a graduate student in the Biology Department, was looking to extend the work he was conducting on top of the school's parking garage. He hoped to build a refugee garden. The university offered him two back lots on Cambreleng Avenue, which except for the occasional work done by Fordham Facilities to cut down overgrown grass and keep the space maintained, lay unoccupied and unused. He couldn't use it for a refugee garden, he said they told him, but a community garden could be a good way to utilize the space. "Enter St. Rose's Garden," Aloisio said.
After procuring the funding from a number of university offices and academic departments, Aloisio and other volunteers began work in the spring of 2012, setting down fabric and constructing the beds from wood and soil he had brought in. It was the first time Aloisio had built a garden of that scale. They planted in all eight beds and at least four of the kiddie pools. "We had food that summer," Aloisio said.
According to Aloisio, the name St. Rose's was inspired by a number of sources. "I mean you always got to sell it to the Jesuits, right," he explained with hint of humor. He originally intended to call it St. Rose of Lima Refugee Garden, after the patroness of gardeners, but later changed the name simply to St. Rose's Garden. It matched perfectly with the name of Fordham University's Bronx campus, Rose Hill, Aloisio said, and had a personal connection — his grandmother's name is Rose.
Fordham's website now describes St. Rose's as an "outdoor classroom," and Maloney seems to agree. "It's very much like an experiment," she said. Greenspan recalled how at one meeting she and the other garden members were trying to figure out if the tomatillos they had planted were ripe enough to eat. When no one knew, they resorted to trial and error.
"I don't know enough about conventional gardening to be telling people what to do. I just pray that someone else knows more than me," Greenspan said. "And, you know, Google's your friend."
Year-Round Inspiration
Besides the three garden managers only two students attended an early November meeting. The main growing season had ended, and with it had come cooler fall air. The hot peppers were still thriving, their sharp red color shining off the green plant leaves and mirroring the ivy that had begun to turn its seasonal red. But plants in the remaining beds were mostly unkempt and unproductive.
As students got lost in the craziness of midterm exams, Maloney explained, turnout during meetings had subsided. The bad weather on previous meeting days hadn't helped either. In the constant flow of gardening, there was still plenty of work to be done. That day, two students pulled up some of the corn plants, carefully keeping as much of the soil in the beds as possible, and Kiel turned over the compost piles as he explained the process to Greenspan. The meeting ended after about a half hour, partly as the members shied away from the compost, which had begun to emit a foul smell as Kiel sifted through it.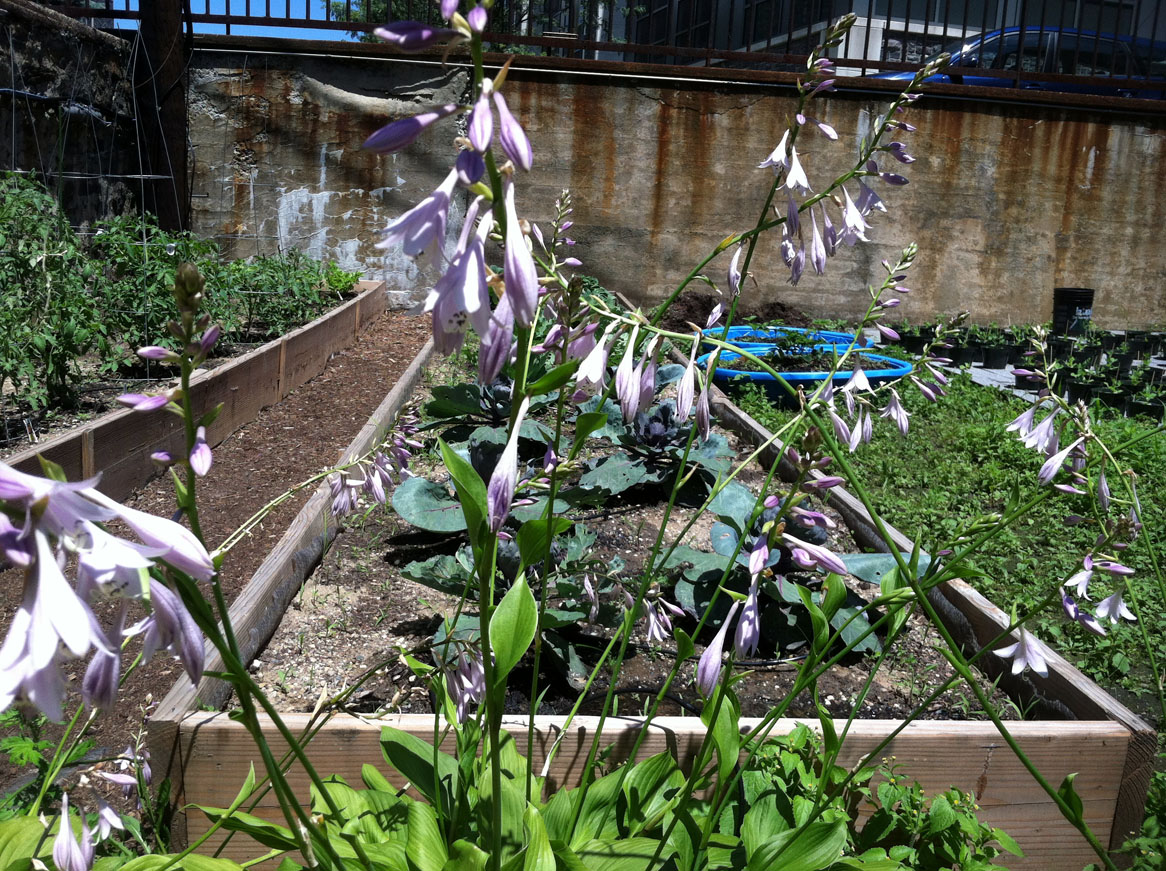 Back in September, Kiel had said that he used to worry nothing would grow in the garden. "I'm always afraid that it's going to be the first year that the garden doesn't bloom," he said. "But sure enough, the plants have a way of taking care of themselves."
Even though turnout was low and work was short-lived that Friday, there didn't seem to be any concern about the garden's future. It would take care of itself. The garden's members came and went throughout the semester, but the garden remained a fixed space on campus. "That's just the natural ecology," Aloisio said, referring to the omnipresent growth. "When there's open space, open resources, plants are going to colonize, and they're going to continue to grow."
During past winters, students have set up hoop houses around garden beds, a less permanent type of greenhouse, and this year, the garden managers hope to use a hydroponics system to grow indoors as well. Last year, they grew spinach and lettuce in the hoop houses outside, Maloney said.
Marco Valera, Fordham's vice president for facilities management, said that the university has no plans for the space over the next five years. "We certainly want them to keep doing what they're doing," he said.
In many ways, St. Rose's helps build from the Bronx's earlier history. When St. John's College opened in 1841 (what would later become Fordham University), the land was home to the Rose Hill farm. The farm remained an important part of the area after the college opened, serving as a major food source for its faculty and students. Up to 40 cows once grazed where the Fordham Preparatory field now stands, and an orchard and vineyard also made up the campus landscape.
Now, St. Rose's helps inspire its members to think about environmental issues on a larger scale and imagine a different community and a different world. Much as Aloisio intended, it helped evoke the interests of those who visit.
Kiel said his passion remains in waste management and the garden's compost — "since my sophomore year, that's sort of been my child of sorts," he explained. Maloney's interest is in food systems. And Greenspan's is in vertical gardening and hydroponics. All envision a more sustainable future. "I aspire to a world where being [environmentally conscious] doesn't have to be so difficult," Greenspan said.
Until then, the students have St. Rose's.
Ben St. Clair is a senior at Fordham University.
Top photo overview of Garden by the author.